It's the third Thursday of November and you know what that means.....

The new Beaujolais has arrived in wine and liquor stores across the world!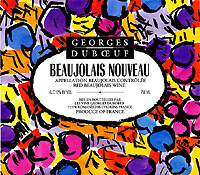 There is a lot to love about Beaujolais Nouveau - for one thing it is the perfect red wine for white wine lovers since it is so bright and juicy with less bite than other reds (and it's best served slightly cool). For another thing it's fun to be part of the tradition of the Beaujolais Nouveau. By French law it cannot be released before the Third Thursday of November and so as you sip some today for the first time- so are thousands of people around the world!

Check out some fun facts about Beaujolais Nouveau here

Quote from The Washington Post, by Karen Page and Andrew Dornenburg:
"Because Beaujolais Nouveau is released annually on the third Thursday of November -- exactly one week before Thanksgiving -- the two have become as inextricably linked as Champagne and New Year's Eve. Tomorrow, you can proclaim 'Le Beaujolais Nouveau est arrive' just in time to serve as a classic and reasonably priced (the 2007 Georges Duboeuf Beaujolais Nouveau is $10) accompaniment to Thanksgiving dinner, plus any buttery cheeses such as brie or Camembert that you might set out before or after the meal." (November 14, 2007)

So join the worldwide party and tradition and head out to your local wine shop/liquor store today and pick up a few bottles today!