Deal of the Century: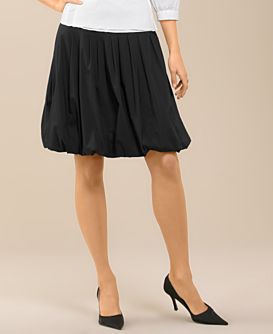 Last night I went shopping for my birthday ensemble (have I mentioned I am turning 26 tomorrow? eek!) and I happened upon a rack of these BCBG Bubble Skirts at Macy's$ I fell instantly in love, but they were brand new to the store and not on sale. I mean So Not On Sale, no discounts at ALL. And while I loved this skirt, I was not into paying $146 for it, birthday or not.
C'est la vie I suppose.
So I wandered over to the I.N.C. clearance rack and was poking around the sequined shrugs when (gasp!) there was the BCBG bubble skirt but some angel from heaven had mistakenly stuck a red price sticker OVER the original price so that it now said $51.75.
And did I mention it was in my size, too?
There was a bit of a snafu at the register, since the skirt scanned in at full price, but I can be charming when I want and I pointed out that it's not my fault that something was mis-stickered and put on the wrong rack.
And did I also mention that I had a 20% off coupon AND a $25 gift card?
So I walked out of the store with a brand new $146 party skirt, having spent only $18.99 on it.
Which of course afforded me extra "accesorizing" money. So I went downstairs to the jewlery department to round out my outfit.
I already had this shirt (
only mine has a black cami attached and not a white
)
And i already planned on wearing these shoes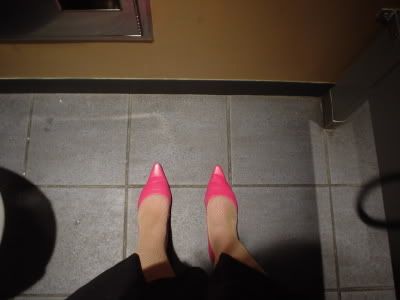 (I am physically incapable of wearing all black with black shoes. This is why I own so many shoes in colors like hot pink, metallic green, gold, purple, teal, etc...because I wear so much black on my body but I couldn't bear to see it on my feet)

So where does one go when one needs plastic, fun, pink earrings?
CLAIRE'S! of course.
So I headed over to the Mecca of $5 earrings purchased a pair of pink hoops, and a fun, chunky pink beaded bracelet.
My friend Andy and I have a philosophy that every ensemble you wear should have a muse. In this case, my outfit's muse is a classed up melange of Kelly Clarkson on the cover of Blender, and Catherine Deneuve in "8 Women"
I am so ready to turn 26