Last night I needed a pick me up. Some people turn to alcohol for cheering up. Some use drugs. Others turn to food.
I turn to discount shopping.
And so stop at TJ Maxx on the way home from work last night renewed my faith in life as I snagged
these babies
on clearance for $25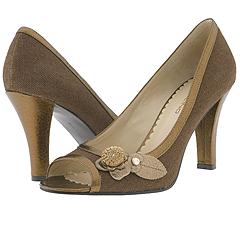 And also got some good deals on red shirts and some shorts (which he lives in now) for Adam.
I also spent quite a bit of therapeutic time in the handbag aisle. I am in desperate need of a spring/summer handbag. Something leather, something large enough to carry all the essentials but not so large it could double as a diaper bag. Something is a fun color (meaning other than white, tan, black or brown). I saw
some Dooneys at Macy's
a month or so ago that could do very nicely but I am keeping my options open (i.e. trying to find a better deal). The hunt is definitely on. I did notice that TJ's now carries Pucci handbags which I am a little obsessed about. It probably has to do with my Jacqueline Susann fetish. The precise Puccis they have don't exactly do it for me, but the minute they carry any of the cosmetic pouches (which I think would make an adorable clutch), that piece is coming home with me.
That reminds me, I think a re-reading of Valley of the Dolls is in order.