Ah back at work after a four day weekend, what's more awesome than that?

(Clearly, a lot)

Actually my long weekend was so productive and fun that I don't mind being back at work. Usually I arrive back at my desk after a weekend thinking "Ugh I wish I had taken care of this or done that" but pretty much everything that was on my agenda on Thursday evening got taken care of. Make no mistake, none of these action items were in anyway related to work of any kind. But still, a sense of accomplishment is always nice even if the the list of things you accomplished includes getting a martini at Vox and trying on necklaces at Turtle.

Let's recap, shall we?

Thursday I slept in (well, I can never sleep in so I did get up at 7:30 which is about 1.5 hours later than usual so that counts), lounged around watching TV and drinking coffee. Then headed into Copley/The Pru for some birthday shopping which included the requisite spree at Sephora, window shopping/lusting at Dior and picking up a birthday gift at Coach for Adam's sister in law. I met Jenny in front of Tiffany after she got out of work and we headed over to Tapeo to meet Ulli for a very indulgent tapas feast that included venision sausage, monk fish, pheasant, baked goat cheese and loads of mojitos and sangria, as well as even more loads of innapropriate conversaton which grew even MORE louder and MORE inappropriate when we headed to Vox for apres dinner cocktails. I love Vox, because it reminds me of when I worked in Boston and would meet Jenny there after work where we would order the cheese plates, drink oodles of martinis and then go drunk-shopping at Sephora. Of course now that I am older I am perfectly capable of making ill advised cosmetic purchases when sober but it was fun just the same (although, in true "i'm turning 27" style, I did complain to Adam that it is all young kids there (young meaning just turned 21/22) and he said "Isn't that the age you were when you always went there? Touche. But i never wore an oversized "Flashdance" tee while doing so)

Anyway the next day I awoke early and Adam and I headed out to Macy's where I picked up my birthday shoes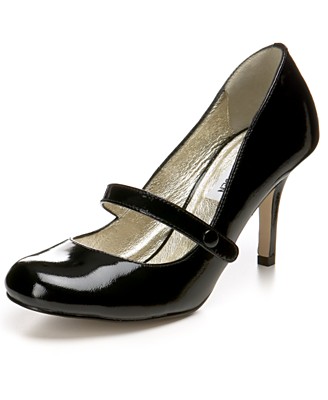 and super cute black and white polka dotted dress which of course I can't find a picture of anywhere. From there we headed into the South End to go to Turtle and check out the Twigs & Heather jewlery. Adam had said for my birthday he would either get me one of their necklaces, or a bracelet from Tiffany for my birthday depending what I liked best. Truth be told I had expected to walk out of Turtle with a necklace but this was my first time seeing Twigs and Heather necklaces in person and I was a little dissapointed with the length. Online they look like they are long necklaces..at least a clavicle length but the ones they had in the store were much more like chokers and I can't have a necklace right up against my neck, it drives me mad! I was sad too, because they were so cute.

But once we got to Tiffany I perked right up!

After picking out my bracelet (the silver beaded one, to match the earrings I got for Christmas), we headed over to Michaels so I could get the supplies needed to make the centerpieces for my birthday party/dinner that night. My party had a black, white and pink theme (and I had told my guests they were encouraged to wear these colors!) so for the centerpieces bought huge faux pink dahlias, stuck them in glass bowls with clear and white stones and tied a black and white ribbon around the vase


(taken by Jenny, of course!)

And then I made little favors for my guests by wrapping a handful of hershey kisses in pink tissue paper and tying it off with more of the ribbon. I have always thought that it's silly that only brides and people having babies get to have parties where the centerpieces and favors have a theme. This probably means I have away too much time on my hands but I love it, so who cares?

The party itself was a success. We had dinner at Fox & Hound in Quincy and while there were minor snafus getting everyone seated despite the fact that I made reservations and had clear confirmation from the manager that our tables would be ready when we arrived and they were not, that is neither here not there. The food was great, the service was fabulous, the drinks were strong and the company was completely divine. My friends give fabulous gifts, among then were a gift certificate to CVS, decadent Voluspa candles, a martini kit complete with bottle of Tanqueray, a gorgeous framed photo, and tickets to Tanglewood to see James Taylor this summer. I am a lucky girl, I tell you what.



You can see a few more pics on Jenny's blog.

My quote of the night, in reference to a picture of Katie and I where it looks like I have way too many fingers "I look like I have, like TEN fingers!".

After Fox & Hound, Adam and Jenny accompanied a somewhat inebriated moi to Alba where we counted down to midnight and toasted at the stroke of 12. I was officially 27!

The rest of the weekend was dedicated to that which I did not have time for on Friday and Saturday: bumming around. Sunday, my actual birthday, I went and saw my parents (my mom has a terrible cold so we all rescheduled my family dinner for next week), then Adam's brother and sister in law came over to take us to lunch, then Adam and I took naps, and later ordered pizza to enjoy with wine while watching the Oscars. Yesterday, since it snowed and I am a big fan of doing nothing when it snows, we slept in, watched movies and didn't even get out of our PJs until after 5PM.

A great end to a mini vacation if you ask me!