I feel a little gross today.

I don't mean like I am sick (although something IS going around my office and I feel the first inklings of it). But no, I'm wearing foundation today for the first time in YEARS.

And I am not that into it.

Generally, my skin has been good to me. I never really had acne or oily skin or anything like that. So when I did get a pimple every now and then, instead of ignoring it or just dabbing some kind of anti-zit stuff on it, I would obssess about it and torment my face. And lately, "every so often" is sadly becoming "often enough to freak me out". Which is why what on Friday was just a small zit on my chin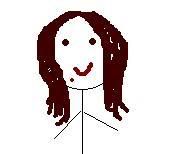 has turned into me growing my own clone on the lower half of my face




Hence the foundation.

Usually I just use a little powder and hope for the best but lately that just ain't cutting it. So I went on over to CVS and picked up Cover Girl Advanced Radiance in Medium Beige.

Pros:
1) It smells wonderful. So if anyone leans in for a closer look at my clone, my face will at least smell pleasantly.

Cons:
1)It makes my skin feel kind of odd. I don't have a lot of experience with foundation, so i don't know if your face is supposed to feel all make-upy but that is how I feel and I really didn't put that much on.
2)While it DOES cover up my clone, it needs to be reapplied in that area every few hours.

All in all, not that impressed. I feel like maybe coverup is the way to go but I have never been any good at applying it so it doesn't just look like I put coverup on a zit, which I suspect is not the effect it is supposed to have.

So I am jumping on the "skin care advice" bandwagon that Erin and Erin started recently, and asking for reccomendations. I would prefer a drug store brand because I don't use it that often, and would hate to have to throw out a $40 bottle of makeup having only used it once or twice...but if you have some kind of light coverup/foundation I could use DAILY then I would be willing to invest.

I need help, people.

My clone and I thank you.