this is how i feel this morning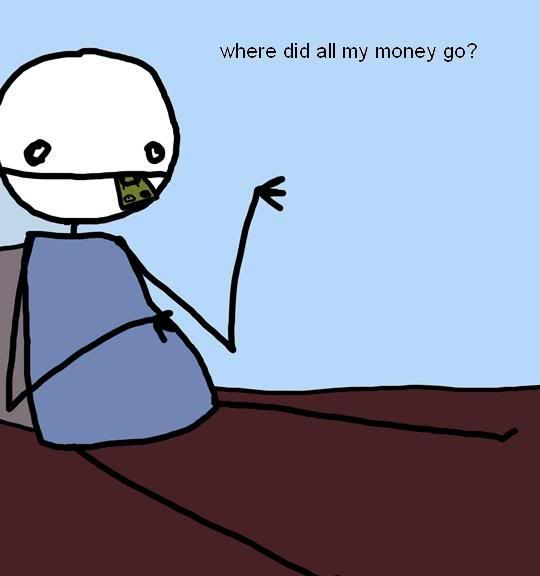 before i went out last night, i told myself "ok, i'll get something small like a salad or something and ONE glass of wine, but that's IT!" and then of course an hour later i am eating oysters and calamari with the fabulous Frankie at Kingfish Hall, followed by $10 martinis at Plaza III with Andy and Jill.

i mean no matter how many times i tell myself that i will budget myself, i really never do. and i have always been this way! i spend, spend, spend until i have nothing left and somehow i still always manage to pay my bills (thank god there are not that many of them) and my rent. my parents are a little in awe of it, since they are thrifty savers, they have NO idea where i came from. and honestly i don't either.

i remember when i was in Kenya when i was 15, i wasn't even allowed to go shopping alone in the markets not because of my safety, but because i would spend all the money i had.

and when i was in high school and working at the bakery and making $40 a week. i would get paid on Thursday, spend it all on Friday night, and then wait patiently until next Thursday to do it all over again.

one summer in college, i was temping at a mortgage company and making BANK because they paid time and a half for overtime and i was working at least 60 hour weeks. one week i got an ESPECIALLY large check and i didn't waste ANY time, i went straight to the bank and cashed it and then straight to Tiffany's and bought myself a few treats.

and here i am, 25 years old, and dropping $100 on a night out like it is nothing when rent is due next week AND i am going on vacation in a few days....

maybe my ex-boyfriend Eric is right, i really am a trust fund kid without the trust fund.